Being active and playing multiple sports will play an important role in your child's athletic journey. Participation in multiple sports will make your child a better athlete, lower the risk of overuse injuries, and help them avoid burnouts. 
One study completed on NCAA Division 1 Athletes found that 88 percent of athletes participated in at least two sports as children, and 70 percent didn't specialize in a one sport until after age 12. 
Three reasons why every young athlete should be playing multiple sports
Avoid Burnouts
The three main drivers in kids playing sports are the ability to have fun with friends, the joy of playing a game, and the ability to compete. Too often we see a young athlete burnout because they lose the spark of these three drivers.
Youth sports aren't meant to focus on winning and losing, they are designed to develop a love for a game. By taking a break from one sport to play another it gives young athletes the ability to test and develop new skills in a different atmosphere. Allowing them a chance to discover what they enjoy about different sports. 
Overuse Injuries
An overuse injury is defined as an injury that occurs from repetitive movements demanded over a period of time. The best way to prevent overuse injuries is simple: Take time off. Taking time off does not mean sitting on a couch during the off-season. Rather, it is a suggestion to move in different ways. By moving your muscles in different ways and at different angles you will develop new muscle groups while giving others the opportunity to get the rest they need. 
Building An All-Around Athlete
Playing multiple sports allows the opportunity to develop as an athlete, not just a football, basketball, baseball, or soccer player. Skills and techniques learned from one sport can uniquely transfer to another.  
Take football and wrestling for example. Wrestling enhances leverage, balance, flexibility, quickness, and power in ways that are directly transferable to football. In the pictures below you can see All-Pro cornerback Jalen Ramsey making a tackle alongside Olympic gold medalist Jordan Burroughs completing a double leg takedown. The similarity is uncanny.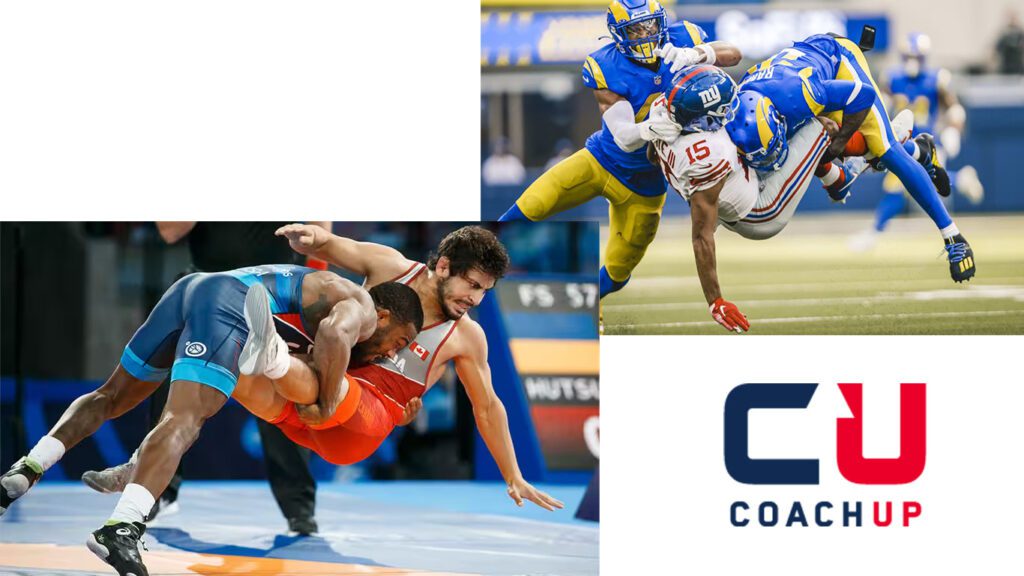 Another notable translation is between basketball and soccer. Two of the greatest passers in NBA history, Steve Nash and Jason Kidd, both played soccer growing up and attributed their court vision to that previous experience. Soccer translates to basketball in numerous ways. It teaches you how to effectively move without the ball, passing IQ, and footwork.
Playing multiple sports has social, emotional, medical, and physical benefits. Before you allow your child to tie themselves to one sport, I encourage you to weigh the numerous benefits that playing multiple sports will have on them as an athlete.
---
With our 100% money-back guarantee and vetted coaches, anyone can achieve their full athletic potential. CoachUp is the safest and easiest way to find a coach for personalized training. Find your perfect coach today and become the athlete you want to be!