At CoachUp, we figure work takes up a pretty big chunk of our time – time we could otherwise be spending on a court or a playing field or maybe in a gym or a pool.
So our working hours had better be awesome. And they are.
CoachUp is a terrific team to be a part of. We all work hard, because it's hard work building an amazing company. But we play hard, too. And nobody here is just warming a bench. We're all starting players from day one.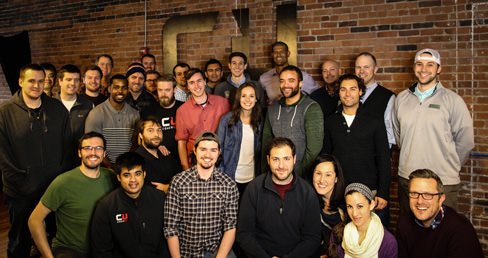 Our Benefits
A stimulating, supportive work environment — creative, fun, super-smart people with a team-first mentality
A terrific team culture — weekly lunches, beer Fridays, wear whatever makes you happy, fun outings (for a taste of what we're like, check out our A Day At The Office video)
Competitive salaries and stock options
Excellent health and dental coverage
A generous four-week vacation policy
Ongoing education — free courses via Intelligent.ly
An amazing office in the heart of Boston's innovation district
A monthly stipend for training with CoachUp coaches
Unfortunately, we do not have any open positions at this time. However, feel free to send us your resume, along with a cover letter telling us why you'd be a valuable addition to our team: careers@coachup.com. We're always on the lookout for great people.
CoachUp Careers In the News