At CoachUp, we figure work takes up a pretty big chunk of our time – time we could otherwise be spending on a court or a playing field or maybe in a gym or a pool.
So our working hours had better be awesome. And they are.
CoachUp is a terrific team to be a part of. We all work hard, because it's hard work building an amazing company. But we play hard, too. And nobody here is just warming a bench. We're all starting players from day one.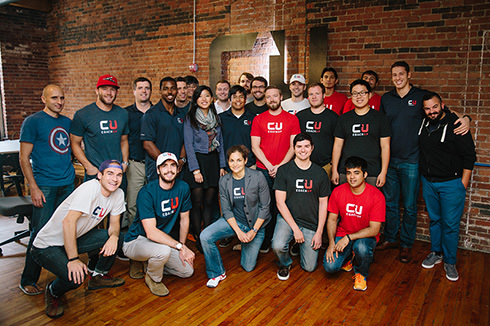 Our Benefits
A stimulating, supportive work environment — creative, fun, super-smart people with a team-first mentality
A terrific team culture — weekly lunches, beer Fridays, wear whatever makes you happy, fun outings (for a taste of what we're like, check out our A Day At The Office video)
Competitive salaries and stock options
Excellent health and dental coverage
A generous four-week vacation policy
Ongoing education — free courses via Intelligent.ly
An amazing office in the heart of Boston's innovation district
A monthly stipend for training with CoachUp coaches
Sound good? Take a look at our open positions:
Senior Ruby on Rails Developer
We are looking for a talented Senior Ruby on Rails Developer to join our development team.
Skills/Experience:
2+ years of professional software development experience
A BS or MS degree in Computer Science (or related industry experience)
Deep knowledge of Ruby on Rails
Strong Web UI background and experience with full-stack web application development
Solid understanding of relational databases and SQL
Proficiency in front end technologies, HTML, CSS, and JavaScript
Strong communication skills
The email marketing manager role at CoachUp offers a unique opportunity, for a highly motivated and driven individual, to learn new skills, develop existing ones and make a significant impact on the channel performance. The email marketing manager will own the email channel but could also be involved in additional marketing initiatives, across a broad range of channels and media. If you are data driven yet creative, a strategist ready to roll up their sleeves and execute flawlessly, a team player with a positive attitude, then read on, you might be the next CoachUp Team member!
Responsibilities:
Manage email marketing campaigns end-to-end, including planning, designing/copywriting, targeting, set-up, testing, execution and optimization.
Come up with test ideas, execute and analyze results. Share learnings with team and provide recommendations for possible applications/roll out.
Weekly reporting of email KPIs and test results.
Ownership, development and execution of content based engagement email strategy.
Involvement in other online (display, SEM/SEO) and offline channels as needed.
Investigation of new email platforms and/or deliverability tools.
Stay current with best practices, strategies, and industry standards related to email.
Work with third party data to optimize email deliverability.
Requirements/Qualifications:
Bachelor degree with a concentration in marketing.
2/3 years experience working in a fast paced, B2C environment. Marketplace experience a strong plus.
Exceptional written and verbal communication skills.
Knowledge of Html/CSS.
Knowledge of graphic design software such as Adobe Creative Suite.
Ability to base suggestions and strategies on both quantitative and qualitative data.
A strong desire to learn through testing and leverage learnings to grow all marketing channels.
Just send us your resume, along with a cover letter telling us why you'd be a valuable addition to our team: careers@coachup.com. We're always on the lookout for great people.