At CoachUp, we figure work takes up a pretty big chunk of our time – time we could otherwise be spending on a court or a playing field or maybe in a gym or a pool.
So our working hours had better be awesome. And they are.
CoachUp is a terrific team to be a part of. We all work hard, because it's hard work building an amazing company. But we play hard, too. And nobody here is just warming a bench. We're all starting players from day one.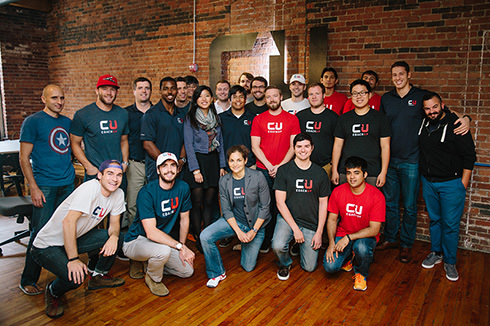 Our Benefits
A stimulating, supportive work environment — creative, fun, super-smart people with a team-first mentality
A terrific team culture — weekly lunches, beer Fridays, wear whatever makes you happy, fun outings (for a taste of what we're like, check out our A Day At The Office video)
Competitive salaries and stock options
Excellent health and dental coverage
A generous four-week vacation policy
Ongoing education — free courses via Intelligent.ly
An amazing office in the heart of Boston's innovation district
A monthly stipend for training with CoachUp coaches
Sound good? Take a look at our open positions:
Accounting/Admin Assistant
As an Accounting/Admin Assistant you will be responsible for providing administrative support to ensure efficient operation of the office. You will support the entire office through direction of the CEO and VP Finance. This will include a variety of tasks related to organization and communication. You will communicate via phone and email ensuring that all administrative assistant duties are completed accurately and delivered with high quality and in a timely manner.
Responsibilities:
Accounting, Payroll and HR support. Assist VP Finance on managing these core functions.
Office management (coordinating supplies, purchases, meeting spaces, office activities, etc…)
Organize and schedule meetings and appointments. Exposure to critical and sensitive third parties including board of directors, investors, lenders, attorneys, accountants, etc...
Manage corporate accounts – email (Gmail), Dropbox, office utilities and cleaning
Produce and distribute correspondence memos, letters, faxes and forms
Order office supplies
Book travel arrangements
Submit and reconcile expense reports
Provide general support to visitors
Requirements:
Proven admin or assistant experience
Knowledge of office management systems and procedures
Excellent time management skills and ability to multi-task and prioritize work
Attention to detail and problem solving skills
Excellent written and verbal communication skills
Strong organizational and planning skills
Strong computer/technical skills: MS Office, Gmail. We use many cloud based tools, need to be skilled and comfortable in this environment.
Senior Ruby on Rails Developer
We are looking for a talented Senior Ruby on Rails Developer to join our development team.
Skills/Experience:
2+ years of professional software development experience
A BS or MS degree in Computer Science (or related industry experience)
Deep knowledge of Ruby on Rails
Strong Web UI background and experience with full-stack web application development
Solid understanding of relational databases and SQL
Proficiency in front end technologies, HTML, CSS, and JavaScript
Strong communication skills
We are looking for a financial analyst to report directly to our VP of Finance in the Boston office.
Skills/Abilities/Competencies Required:
Effective interpersonal, written and verbal communications, and networking skills.
Excellent problem solving, analytical and organizational skills.
Ability to analyze complex financial statements.
Ability to maintain multiple databases and spreadsheets.
Ability to multitask, meet deadlines, follow-up on, and quickly re-prioritize issues.
Extensive knowledge of computerized software programs: Microsoft Excel/Word/Power Point
Knowledge of SQL and Tableau required
Exhibits initiative and ability to work effectively with minimal supervision
Excellent detail-orientation with ability to multitask and respond to competing priorities
Ability to contribute constructively in team-oriented environment with rapidly changing priorities and time pressures
Strong analytical and critical thinking skills
Strong interpersonal and communications skills, both written and oral with ability to communicate complex business information to a range of audiences
Qualifications:
Bachelor's Degree, Finance/Business Management related preferred.
Exposure to marketplace/e-commerce industry a plus.
Minimum three years work experience in financial analysis.
As a Marketing Analyst, you will be responsible for the measurement of all of CoachUp's marketing efforts. Also, you will help execute and manage the tactical components within the digital marketing space working on SEM, SEO social media and display advertising campaigns. As part of your role you'll assist with the strategy, planning and reporting for the CoachUp marketing team.
Day-to-day responsibilities will include:
Building, managing, optimizing, and reporting of marketing campaigns
Actively participating in meetings and proactively documenting takeaways and next steps
Assimilating data from multiple sources, compiling the information and drawing actionable conclusions that can be measured and reported
Implementing digital marketing best practices, providing refinement and optimization recommendations and proactively identifying campaign execution issues
Leveraging and developing proficiencies with advertising platforms, tools and resources
We're looking for a talented Analyst who is also a delight to work with, which usually includes:
A four-year degree, preferably in a quantitative field such as mathematics, statistics, economics or finance preferred but not required
2-4 years of analytical or digital marketing experience
Advanced Microsoft Excel and Powerpoint Skills and knowledge of Tableau and SQL highly desirable
An outgoing personality to work closely with your team to problem solve, prioritize tasks, and manage time effectively
A detail-oriented approach and a desire to achieve objectives accurately
Familiarity with the digital advertising space and a passion for growing that interest into a career
Strong communication skills – you're clear and thorough, yet concise
A passion for building relationships and a desire to contribute to team building
Just send us your resume, along with a cover letter telling us why you'd be a valuable addition to our team: careers@coachup.com. We're always on the lookout for great people.