Both a sports and tech company in one, CoachUp is committed to giving back to causes close to its roots. CoachUp Cares is the philanthropic division of CoachUp that focuses on supporting charitable causes and efforts. CoachUp Cares is committed to giving back to its communities at both the local and national level, across a variety of formats
Our Ambassador program

CoachUp Ambassadors are elite professional athletes who share CoachUp's vision for helping kids change the trajectory of their lives through sports. CoachUp partners with CoachUp Ambassadors to auction off a private coaching session for charity. CoachUp will donate a certain percentage of the proceeds to a charity or nonprofit organization of the Ambassador's choice. The auction winner scores a private coaching session with the CoachUp Ambassador for up to four athletes. The CoachUp Ambassador Program will auction off private coaching sessions with CoachUp Ambassadors throughout the year and across the country. Live and past auction information can be found at http://ambassador.coachup.com
The coachup scholarship program

The CoachUp Scholarship Program - Reaching Another Level in Sports+Life: In 2013 CoachUp announced its first-ever scholarship program. CoachUp will award on an annual basis 3 outstanding student-athletes with a $2,000 scholarship for academic related expenses and $500 toward private coaching sessions. These scholarships mark the next step in achieving CoachUp's mission, to change the trajectory of kids' lives through sports. Students nationwide, who have been accepted into, or are currently enrolled in a US college or university, are eligible to apply. Each scholarship is unique and has its own application requirements. Scholarship details and application deadlines can be found at http://scholarship.coachup.com
2013 J.P. Morgan Corporate Challenge Race Series
Seven members of the CoachUp team participated in the 2013 Boston J.P. Morgan Corporate Challenge Boston race. Along with 12,000 participants from other Boston companies, runners took on the 3.5 mile course that runs through the heart of downtown Boston. Victoria Barnaby, Director of Brand Communication, was the 3rd woman overall to cross the finish line, with a time of 20:06. J.P. Morgan donated this year's entry fees to the Boston Marathon bombing relief fund, the One Fund. The race also made donations to the Emerald Necklace Conservancy and the Citi Performing Arts Center.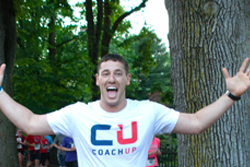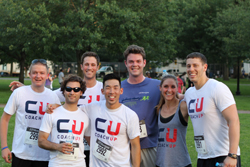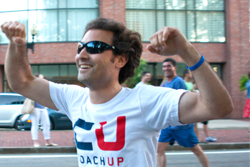 The Green Light Fund's 9th Annual Investors versus Entrepreneurs Golf Tournament
This year CoachUp was a proud to sponsor of the Green Light Fund's 9th Annual Golf Tournament. The GreenLight Fund addresses the critical needs of Boston'''s low-income children, youth and families by identifying high-performing, innovative nonprofits in other communities and supporting them to expand into Boston. The beneficiary of this year's event was The New Teacher Center. CEO Jordan Fliegel partnered up with Patriots legend Steve Nelson to take on the course at the Bolton International. CoachUp Golf Coach John gave tips and advice to participants during the pre-tournament warm up.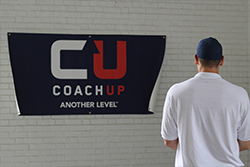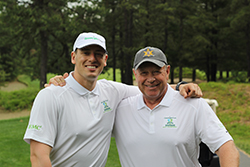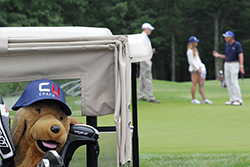 Raise the Rim
Two years and counting, CoachUp has both sponsored and competed in the Raise the Rim 3-on-3 basketball series fundraiser. The net profits of this event go to TUGG, Technology Underwriting the Greater Good, a non-profit dedicated to catalyzing and spreading social entrepreneurship in New England. We should also mentioned we've won it both years and are looking forward to next year's competition.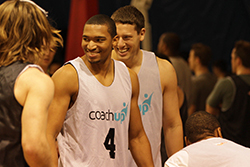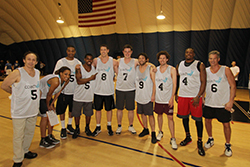 Techies Rock for Boston
In the wake of the Boston Marathon bombing tragedy, CoachUp organized a fundraiser the proceeds of which were donated to the One Fund, the official fund set up by Mayor Menino and Governor Deval Patrick for victim relief. Local tech companies contributed donations and local talent donated their musical talents for the evening's entertainment. The event raised nearly $25,000 for the One Fund.

Image designed by Aaron Bouvier - Boston lettering from hairpin.org
United Way Youth Venture Program
CoachUp CEO Jordan Fliegel was a keynote speaker and panel judge of the 2012 Youth Venture Program. This program supports young entrepreneurs in the implementation of their own ideas for social change. The program inspires and invests in teams of young people to start up projects that create positive, lasting change in their communities.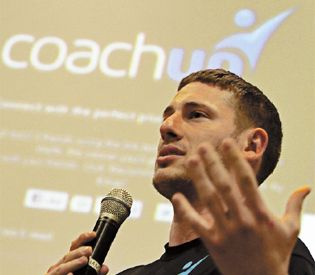 NBRPA Skill Clinic
On August 23, 2014 CoachUp partnered with The National Basketball Retired Players Association and held a free basketball clinic for over 100 kids in Cancun, Mexico. Watch the video here. Read a bit more about our trip.

Reaching Another Level
In July of 2014, CoachUp CEO Jordan Fliegel released Reaching Another Level, with all proceeds going to CoachUp Cares™. The book explores the true stories behind the making of some of America's greatest athletes, and how they beat the odds one grueling training session at a time -- when no camera was on them and no one knew their names. Learn more about the book. - Buy the book on Amazon. Check out Jordan's interview on NECN TV here.

Tech Gives Back
In early September of 2014, CoachUp joined over 2000 members of Boston's stellar innovation ecosystem to give back to Boston, the city that has done so much to help us succeed. The CoachUp team pitched in to help clean up the famous Boston Esplanade, Charles River, and surrounding parks.
Cambridge Skills Clinic
In August of 2014, CoachUp took six of its top private basketball coaches and put on a free skills clinic for dozens of inner-city youth. Led by former pro and CoachUp coach Brandon Ball, the clinic benefitted dozens of local kids. Read more.

If you are interested in learning more about CoachUp Cares™ you may contact us or call us at (888) 680-4750.