The average handicap, per the USGA, is roughly 14 for male golfers and 27 for women. Anybody contributing to the high side of the average—which is likely most of us here—could stand to improve their game in a number of ways. As amateurs, golfers want to find a quick fix. Whether that be in the form of buying new equipment or paying for lessons, each of the most commonly sought after "problem solvers" for their game are mere details in the grand scheme of golf. Granted, every golfer has something to gain from taking lessons, but there is one commonly overlooked element of each round that can dramatically improve one's game: course management.
Golf course management is decision making that helps a golfer execute their strategy and achieve their goals for a round. Consider this situation for further explanation: you are standing over your second shot on a par-5 and are 260 yards out. If you pure a 3-wood you could get close to the green, but it is a gamble. Rather than taking a monster hack with a long club and risking a directionally challenged shot, pick out your favorite number to attack the green from. If you are comfortable from 120 yards out, then this second shot—instead of a hero swing for the green—could be a simple and reasonably attainable 140 yard short-iron shot. With this course management decision, you overcame the temptation to hit a bomb, made a responsible evaluation of your ability, and (hopefully) left yourself in a confident position to still record a green in regulation.
Course management tips to carry into your next round of golf
Here are seven of the best golf course management tips we could come up with:
1. Use your most trustworthy long club
The aforementioned situation was an easy one to plan around, but golfers face far more challenging situations in every round. Take a long par-4 for example. Say you're facing a 480-yard hole and haven't been hitting your woods well. If you have a 180-200 yard club in the bag that you feel confident in, good course management would suggest you take your medicine here. Obviously ripping a drive down the middle would give you a better chance at scoring this hole, but you will always be better served swinging a confident club. Take what the course will give you here and plan out your yardages to allow for an up-and-down par or a scramble bogey on this hole.
2. Play smart into the green
No hero shots from 150 yards and in. If the pin is tucked to the right behind a bunker and the middle of the green in open, take a second to consider the situation. Sure, you might stuff a wedge in tight to the hole, but you may just as well end up in the trap scrambling to get up and down. If you adjust your sights to the accessible part of the green, you will hit more greens in regulation, leading to better scoring chances.
3. Lag putt outside of your comfortable range
Distance and speed control are key when putting. Golfers need to identify the range that they are comfortable being aggressive to the cup from and stay true to it. Good course management will lead you to lag putt—or get the ball to tap-in range—on longer putts, rather than taking more aggressive lines and strokes. The number of putts a golfer makes on a round is the best indicator of how their day went. If you eliminate three-putts and leave yourself tap-in second looks all day long, your score will reflect it immediately.
4. Steer clear of boundaries and hazards
Cutting the corner or covering the water might sound like a good idea, but if you have made it this far in the article, it's probably best if you avoid those shots at all costs. Taking a drop not only hurts your score, but it is mentally taxing as well. Pitch out to the fairway or lay-up short of the pond rather than risking it all on a low-percentage shot. Course management is all about setting yourself up for success on the next swing.
5. Adjust the scorecard to "our par"
This is a fun trick for high handicappers—20 plus—to mentally give themselves a better shot at playing true bogey golf. If you are playing a par 72 track and are struggling to break 90, take your pencil and physically adjust the scorecard to reflect "our par" of 90. "Our" in this phrase referencing every golfer who could benefit from this trick. Every par-3 becomes a par-4 on your card; 4's become 5's, and 5's turn to 6's. If high handicap golfers can commit to the idea of playing a round with "our par" as the target, they can manage the course to the adjusted par and enjoy a better chance at scoring a career low.
Take the time to plan out your next round hole-by-hole and take smart shots all day long. Golf course management may seem like a chore or a boring exercise, but if the goal is to shave strokes off your score, it is worth committing to for at least one round.
---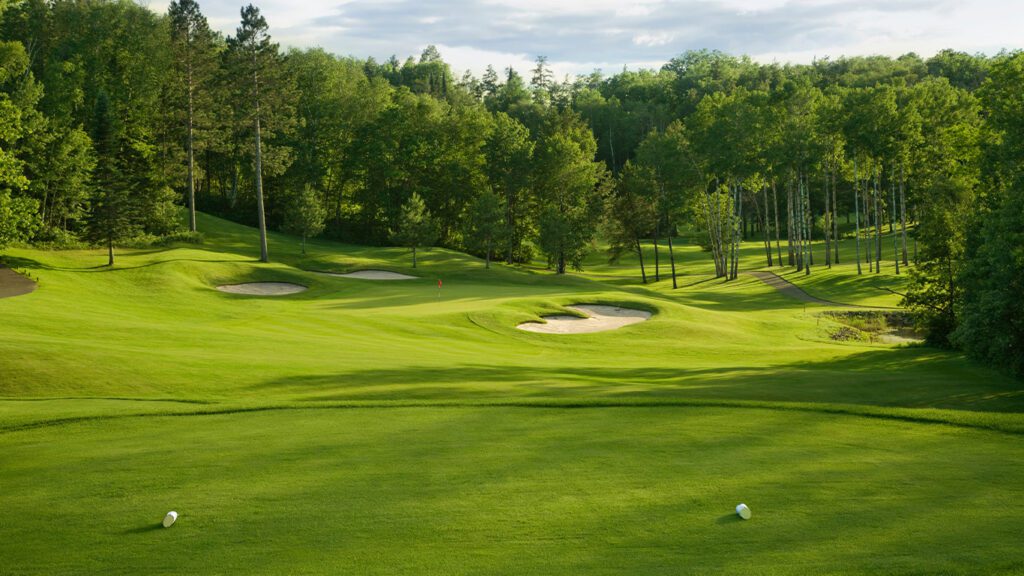 With our 100% money-back guarantee and vetted coaches, anyone can achieve their full athletic potential. CoachUp is the safest and easiest way to find a coach for personalized training. Find your perfect coach today and become the athlete you want to be!